Ciara
KimKardashian
LalaVasquez
The ever climbing socialite just debuted her new crew including Ciara and Lala last night as they went out to celebrate the release of Ciara's new CD and the fact that she is in LA finally
But we all know Kim's just trying to upgrade to Justin Timberfake
CiaraKimKardashian
LalaVasquez
Lala has been in blog news for getting into at her fiance's basketball game this week. She had to be escorted out. Not a good look for a judge on VH1's Charm School. However Lala says this:

let me explain to my fam..i owe yall that even though my publicist released a statement. TWITTERVILLE! blowing yall a kiss 4 all the love. man the media will blow something up, wont they?!?! let me ...
u cant harass a person,callthem&their fam n*gg*rs,call kiyan a b*st*rd,push me in the back of thehead cuz ur drunk and not expect a reaction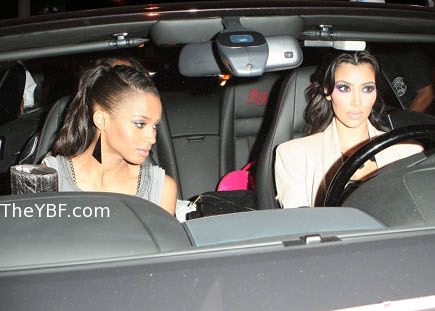 Ciara
KimKardashianLalaVasquez
Ciara latest album is coming in at #3 on the Hot 200 and #2 on the urban charts losing out the unstoppable Hannah Mantana and a "def jam" artist who was selling her album for $3 on the internet (and probably had her label spend her advance buying albums...but that's just the hater in me) and sold less than 2,000 copies more than Ci. This def jam artist Chrisette Michelle, scores her first #1 but the lowest #1 sales inthe history of billboard. This is Ciara's lowest debut in sales but her 3rd top 3 debut on billboard with her first album debuting at 3 and her 2nd album debuting at 1.
The n**** blog are very happy for this one but don't realize Ciara's 2 singles are already platnum, her album debuted in Belgium, France, Ireland and the UK in the top 10 and her latest song is #7 on the world charts. But just like in the case of Rhianna, they'll be scratching their head wondering why she gets to perform and do all the things in stored with a "flop" album.
Having said all that, Ciara def should have been able to pull over 100k. This is a very dissapointing debut for her. But this is what happens when you switch you style up and take risks. If it's real she will push through it.